If you live or commute along Clements Ferry Road, don't expect to see those traffic cones and orange construction signs vanishing anytime soon.
As congestion and delays continue to build along this key residential and commercial artery, work moves forward on a dual-phase infrastructure project aimed at increasing the roadway's capacity, improving traffic flow and addressing safety and future growth concerns.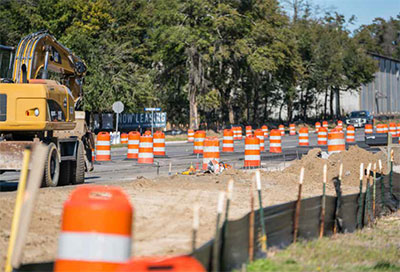 The two-lane road eventually will be widened to a five-lane curb and gutter section with a raised, planted median and multi-use path for bikers and pedestrians along one side of the roadway, according to Berkeley County Public Information Officer Hannah Moldenhauer. Improvements on phase one of the project, scheduled for completion late in 2019, involve a 4-mile stretch of Clements Ferry from Interstate 526 to Jack Primus Road. The South Carolina Department of Transportation is managing this part of the project, which is funded by the 1-cent sales tax approved by Berkeley County in 2008.
The county is managing phase two, a 4.5-mile stretch from Jack Primus Road to Highway 41. This part of the project also will include four signalized intersections. Preliminary engineering and an environmental assessment have already been completed on phase two. Right-of-way acquisition began in January and is expected to be completed by late 2019, said Moldenhauer. Approximately 100 properties will need to be purchased, and various utilities will have to be relocated during this stage of the project. Phase two is expected to be ready for construction by the end of 2019, with an anticipated completion date of spring 2021.
The projected cost for phase two of the Clements Ferry widening is $42.5 million. Berkeley County will receive $9 million in federal Guideshare funds allocated by the Charleston Area Transportation Study. Taxpayers will cover the balance through Berkeley County's 2014 1-cent sales tax increase.
"This road would not have occurred without the taxpayers of Berkeley County passing a 1-cent sales tax to provide the basis of funding," noted Berkeley County Councilman Josh Whitley.
Whitley explained why these road improvements are necessary.
"It is a two-lane road serving 25,000 cars per day. Although it is an important commercial road for all of our businesses and industries that Clements Ferry Road serves, it is a quality-of-life issue for those sitting in traffic every single day," Whitley said. "By improving Clements Ferry Road, commute times will be shortened, and, most importantly, safety will be strengthened."
Residential and commercial development in this bustling corridor show no signs of slowing down. Whitley noted that with the development of Cainhoy Plantation, which is larger than Daniel Island, explosive growth is on the way, making infrastructure-improvement projects such as the Clements Ferry Road widening vital in preparing to meet that growth.
Whitley added that the recreation component to phase two – the multi-use pedestrian path – is important not only for federal funding but also for "quality of life for the residents of this corridor." He said this portion of the project will "offer alternate modes of transportation, with the hope that it will help reduce the number of cars on this heavily traveled road."
Whitley, who was at the final public hearing on Clements Ferry Road phase two, held on April 26, 2018, said the No. 1 concern speakers expressed was about the raised concrete barriers, which were later addressed in the adjusted engineering design.
Because Clements Ferry Road is located entirely within Berkeley County, neither Charleston County nor the town of Mount Pleasant have been as involved with this project as they are with improvements on Highway 41 from Highway 17 to the new Wando River Bridge. Whitley pointed out, however, that Berkeley County has coordinated with Charleston County and Mount Pleasant on the "interface between the widening of Clements Ferry Road phase two and the future widening of Highway 41 to ensure that lane continuity will be provided across the Wando River Bridge."
Charleston County Public Information Officer Shawn Smetana said Charleston County has coordinated with Berkeley County planners concerning future development and projected "trip generations," which examine how many trips are generated from one area or location to another, depending on land use and development in a specific location, Smetana said. For example, the traffic model might predict that a Walmart generates significant trips from residences and supply distributors, while a school generates a high volume of trips to and from residences when school starts and dismisses.
Charleston County has also coordinated with Berkeley County's design firm for the Clements Ferry Road widening to verify their traffic projections and termination point.
The town of Mount Pleasant has not been involved with planning and has not contributed any funds for either phase of the Clements Ferry Road widening.
Mount Pleasant Transportation Director Brad Morrison pointed out that the town considers Highway 41 to be its top transportation priority.
"Portions of S.C. 41 are over capacity at present, and future traffic projections indicate failing levels of service, so it's critical for the mobility of the neighborhoods adjacent to that corridor in particular – and other users in general – to see a capacity improvement," Morrison said, adding that Highway 41 is also a hurricane-evacuation corridor.
Morrison explained why Mount Pleasant did not contribute any funding to the Clements Ferry Road widening: "Obviously, the entire metro region has more transportation-project needs than it does funding, which is a major challenge for all local governments. Mount Pleasant has a prioritized Capital Improvement Program that focuses its limited fiscal resources on projects within the town. Accordingly, it would be difficult to support spending those resources within another city or county."
By Colin McCandless