There's good news and there's bad news for motorists who must make their way up and down the overcrowded stretch of Highway 41 that runs from Highway 17 to Clements Ferry Road in Berkeley County, crossing the new Wando River Bridge along the way. For those who choose to see the situation on the heavily-traveled two-lane road in a positive light, work is moving along on the study required under the National Environmental Policy Act. The study is about 40-percent finished, according to State Sen. Larry Grooms, chair of South Carolina's Senate Transportation Committee.
And the bulk of the roadwork will be paid for by the half-cent sales tax approved by Charleston County voters in the November 2016 referendum.
The bad news is that work estimated in the spring of 2016 to be completed in 2021 now probably won't be finished until sometime in 2025. Even worse, Mount Pleasant Waterworks customers who are already paying that half-cent sales tax will most likely see an increase in their monthly water bills to pay to move the water and sewer lines to accommodate the widening of the road to four lanes.
As it now stands, the NEPA process, started in May 2017, should be completed in the spring of 2019, with approval expected from the federal Highway Department in 2020, Grooms said. He pointed out that work, which probably will take around three years, should begin in late 2021 or early 2022.
"That's if there aren't any lawsuits and if everyone is holding hands on the loss of wetlands and environmental justice issues," Grooms said.
Mount Pleasant Mayor Will Haynie pointed out that the two major issues in the NEPA study will be freshwater and saltwater wetlands, and the cultural aspect – the affect widening the road will have on people who have lived in the area for generations. The African-American Phillips Community was founded by freed slaves in the 1870s.
Both Grooms and Haynie are guardedly confident that the Highway 41 project can be completed in less than seven years.
"If there's a way to do it, we'll jump in there and do it," said Haynie, pointing out that environmental issues were worked out fairly quickly when Highway 17 was widened through the ACE Basin, west of Charleston, allowing that project to be finished sooner than anticipated. "It's possible to take a couple of years off the process."
Though $140 million in sales tax money has been dedicated to Highway 41, it has not yet been determined exactly what the project will look like. One possibility would include a flyover at the intersection of Highways 17 and 41, an option that would cost $132 million, according to Grooms, whose Senate district includes parts of Charleston and Berkeley counties.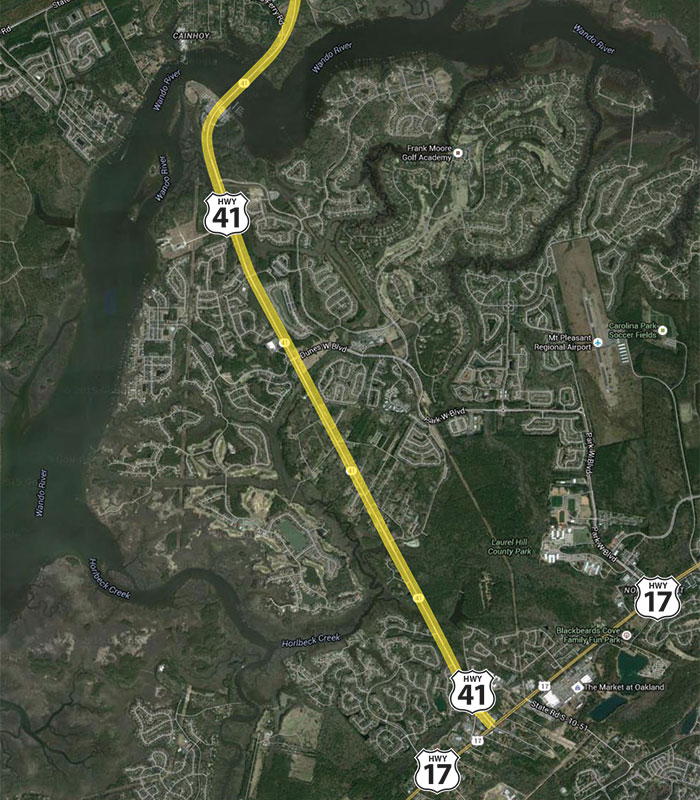 "It's possible to move forward without the flyover," he commented, adding that some funding for the project will come from Columbia. "There will be state money, but I don't have any idea right now how much will be involved."
Mount Pleasant Waterworks General Manager Clay Duffie hopes the state will find a way to provide financial help to move the water and sewer lines along Highway 41 when the road is widened. He said that part of the job is expected to cost $19 million, and, so far, it appears that MPWW's customers will for forced to foot the bill. He did, however, point out at the Mount Pleasant Town Council's annual retreat Jan. 31 that he would probably ask the state Legislature to provide some financial help.
When the lines had to moved for improvements on Johnnie Dodds Boulevard, MPWW water customers were charged $3 a month for three years, raising around $4 million, about half of the $8 million it cost to complete the necessary work, Duffie said. He added that to cover the $19 million price tag for Highway 41, customers probably would have to pay $4 to $5 extra on their monthly bills for 10 years. It's possible that Waterworks will start collecting that money well before it is spent.
"The commissioners have to decide in their upcoming budget if they will set aside funds right away," Duffie said. "Or do they want to wait? That's up to them. At this point, I don't know what the commissioners will do."
"Hopefully we can minimize that cost," he added. "It's a little unfair for our water customers to pay the half-cent sales tax and pay for relocating the sewer and water lines as well."
Haynie said the town of Mount Pleasant spent approximately $1 million on design work before the sales tax referendum passed and will spend an additional $1.3 million by the time work is completed at the intersection of Joe Rouse Road and Highway 41. A lane is being added to make it easier for drivers to leave Park West and turn right onto the state highway.
By Brian Sherman