Chef Alexis Armand
Restaurant: See Wee
4808 N. Hwy. 17, Awendaw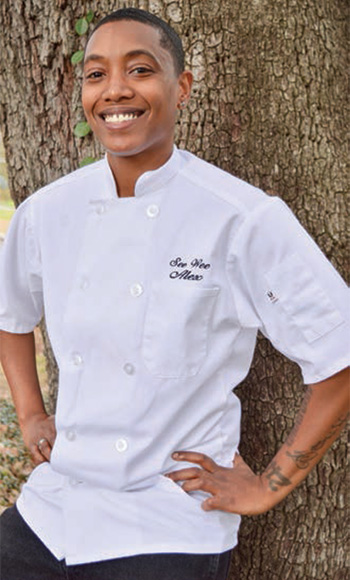 Q: How long have you been a chef? How long at See Wee?
A: I've been cooking professionally for eight years, but I've only been with See Wee for about four months. Prior to this, I was cooking in Atlanta.
Q: When did you discover your passion?
A: I have always loved to cook, even as a young child, but, in Atlanta, I worked under Cristy Nolton at Yeah! Burger, and she helped me realize that I could actually do this professionally – and still love what I do.
Q: What's your favorite dish at See Wee?
A: I love our crab cakes and our shrimp. Our seafood is so fresh, as in still swimming fresh, so the quality of shrimp straight from Bull's Bay is hard to beat. We put our hearts and souls onto every plate, and I think the customers can sense that.
Q: Do you cook restaurant quality meals at home?
A: Absolutely! Believe it or not, I start every day with breakfast. I'm talking steak, eggs, avocado salad. I definitely start my day off right.
Q: Is there a particular cuisine you're drawn to?
A: I have a background in French – Southern fusion – but I really love the flavors of Creole cooking. The spices and the sauces make every dish so delicious.
Q: What's your guilty food pleasure?
A: I can eat an entire Little Caesars pizza in the blink of an eye. I hate myself afterwards, but, every now and then, it's worth it.
Q: What do you like to do when you're not cooking?
A: I'm very big into sports, so being active is always my goto. I'm usually part of a softball or kickball team, though I'm still looking for one to join since I moved here, and I also love martial arts. I'm also very big into church, so I make sure my only day off is Sunday (most weeks) so I can attend – it's important to me.
Q: Any go-to meals you recommend for quick and easy nights at home?
A: First of all, everyone should invest in a cast iron skillet. Secondly, if you're just feeding yourself, you can grab a great protein, sear it in the cast iron skillet and then cook the veggies in the same pan – 15 minutes later, you have a great meal. For families, grab whatever protein you're using, put it in an oven pan with frozen vegetables – that still have their nutrients – and cover it with foil for about 30 minutes. When in doubt, throw cheese on top and almost anything will turn into a family-friendly casserole.
Q: If you could cook with anyone in the world, who would it be?
A: I would love the chance to cook with my now deceased grandfather. Most of the women in my family don't cook, so I think it would be a great experience.
Q: How do you feel about being a female head chef in a predominantly male-dominated culinary world?
A: My mentor was a fellow female African-American chef, so I learned early on that it was completely possible to work hard and carve out a career for myself. At the end of the day, though, I'm scrubbing walls, taking the trash out and doing all of the hard work that I ask of anyone else, so I earn the respect I get – and I'm proud of it. I'm very honored to have been given this opportunity from the owner, Miss Mary. She has the biggest heart in the whole world, and I was hired to make her proud – and that's what I intend to do.
Q: What's your favorite aspect of cooking? What makes it fun for you?
A: I love the team aspect of being in a kitchen. As an athlete, I still get an adrenaline rush every day – just in a different way. When the dinner rush starts and the tickets start flying in, this is when I love to show everyone what we can do. It's almost like bringing home a championship every night.
By Krysta Chapman