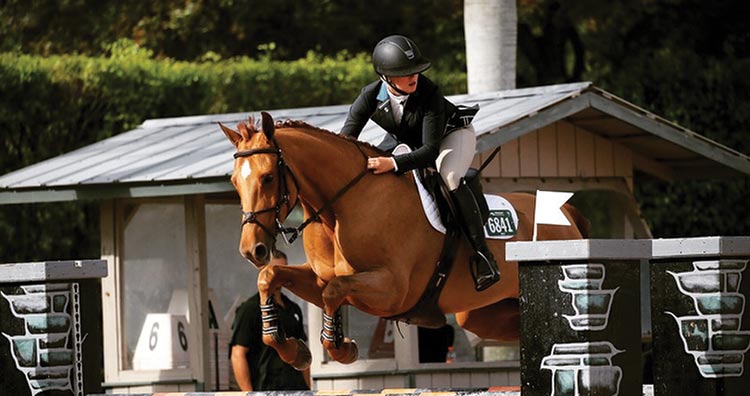 It's been a long time since anyone has considered Mount Pleasant to be a one-horse town. While the average resident may think it's a no-horse town these days with the abundance of suburban sprawl, there is a small, passionate group of equine enthusiasts who are chomping at the bit for the opportunity to combine their love of horses with the convenience and quality of living in this East of the Cooper location.
Kit Menis, a local who first fell in love with horses when she got one at 8 years old, wanted her daughter, Merritt, to grow up with a similar experience.
"I would get up every morning with my little red wagon, in my pajamas, boots and coat and feed the horses before I went to school every day, no matter if it was raining or cold. There's something about it you just can't learn when you board a horse and someone else does all the work," she reminisced.
Her husband came up with the idea to make his wife's and daughter's dreams come true. In 2016, they sold their Mount Pleasant home and bought property in Huger, just five minutes from the Highway 41 bridge, where they could live close to town and have horses. They named it Sea Hunter Farm.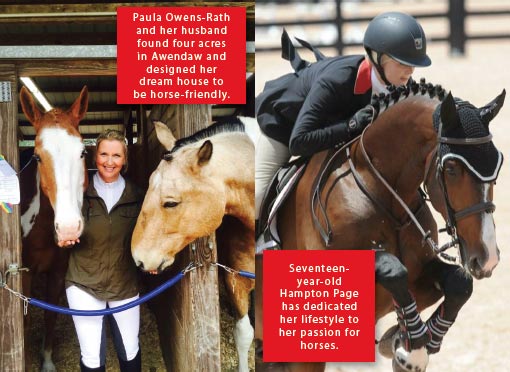 "We're building a barn first and then a house, and we're living in a camper until then because the horses come first. It's really not a bad temporary lifestyle, especially when we spend most of our time outside with the horses," Menis said.
The family now specializes in training and selling horses. Menis, a seasoned riding instructor and former rider and coach for the Clemson University equestrian team, plans to teach riding lessons when the barn is complete. But she isn't the only one who was lured just outside of the town limits to follow a passion for horses.
Paula Owens-Rath bought her own horse and boarded him on Johns Island, but her weekly commute from Dunes West didn't give her the time she felt she needed with her horse. She and her husband found four acres in Awendaw and designed her dream house.
"I designed the house and lot to be horse-friendly, using every available inch to maximize the horses' turnout and exercise while keeping it classic Lowcountry," she said. "Being able to stand at the kitchen sink, look outside and see them from any vantage point is like a dream every morning. For me it's not about profitability. I just love riding – having horses is like other people having dogs."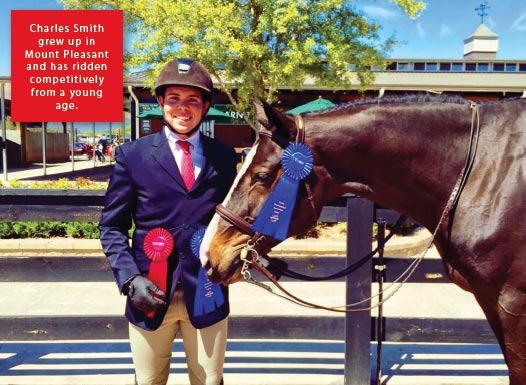 But the grass is not always greener when you take care of horses for a living. Debbie Hankinson, a former resident of old Mount Pleasant, chose to follow her heart and open a boarding barn in Huger. She lives in an apartment above the barn.
"People say 'it's so romantic you have a horse barn,' but they don't realize that it's constant work. You wake up in the morning to take care of several horses, an electric fence is down, your dogs run off after a pack of coyotes, and, within 24 hours, you've spent over $1,000 in fencing to wrap the perimeter with wire," she explained. "Then you get people who board their horse and never show back up. I've had horses here that the owners haven't seen in two years, and they need proper attention from me."
Hankinson also found it was hard to get away because she had to find someone to care for 12 horses, so she has scaled her barn back six horses.
"It is hard work, but I live a great life, and I have no regrets. It helped me pay for my son's college and make my mortgage payments, all while I get to take care of these incredible animals. It's really rewarding," she said.
In addition to those living out their dreams near town, children and young adults find ways to pursue their passion for horses.
"Kids who ride aren't going home and watching television or playing video games after school. They get outside, they connect with animals and nature and learn the value of work, and it keeps them out of trouble," said Menis.
Lexie Townsend, a high school senior, has spent 13 years riding and competing around the country and worked hard for the opportunity to do so.
"For several summers in a row, I was at the barn seven days a week, sleeping on a pallet, getting up at 6:30 in the morning and working until 6:30 at night," she said. "As I got older, it became more difficult to spend entire summers at the barn because I wanted to meet friends and have a social life. I try hard to balance both, and, while I don't plan to ride competitively after college, I would love to continue doing it leisurely."
Seventeen-year-old Hampton Page has dedicated her lifestyle to her passion for horses. She is enrolled in South Carolina Connections Academy, a virtual online public school, which allows her to spend her time caring for horses and traveling across the country for competitions, some of which keep her on the road for months at a time.
"With the horses at the level I'm competing, you have to stay fit, and you are always busy. I work at the barn from 5 a.m. to 6 p.m., doing everything from riding to mucking stalls and caring for the horses," Page explained. "I really have to plan my day out so I can take what little time I have left and do schoolwork."
Page plans to turn her equestrian skills into a career.
"I would love to import horses from Europe, train them and then sell them. When you get a national or international show record with them, you can sell them for a very good profit," she pointed out.
Charles Smith also grew up in Mount Pleasant and has ridden competitively from a young age. At 13, he became the only person to win South Carolina's "Triple Crown." He went on to start an investment company with his father, importing horses from Europe, and helping to train, campaign and sell them. Although he is currently recovering from a back injury, he plans to compete competitively again. The college freshman credits where he is today and even his future career to his equestrian experiences.
"My love for horses is endless – it's not just a sport; it's a passion," he beamed. "Horses have taught me discipline, responsibility and dealing with success and failure. I hope to use what I've learned with investing in horses and the people I have met in this industry to be successful in a real estate career here in Charleston. I recommend that anyone who has a child and can afford it to do so. It has kept me out of trouble and has given me the most amazing experiences."
By Anne Toole