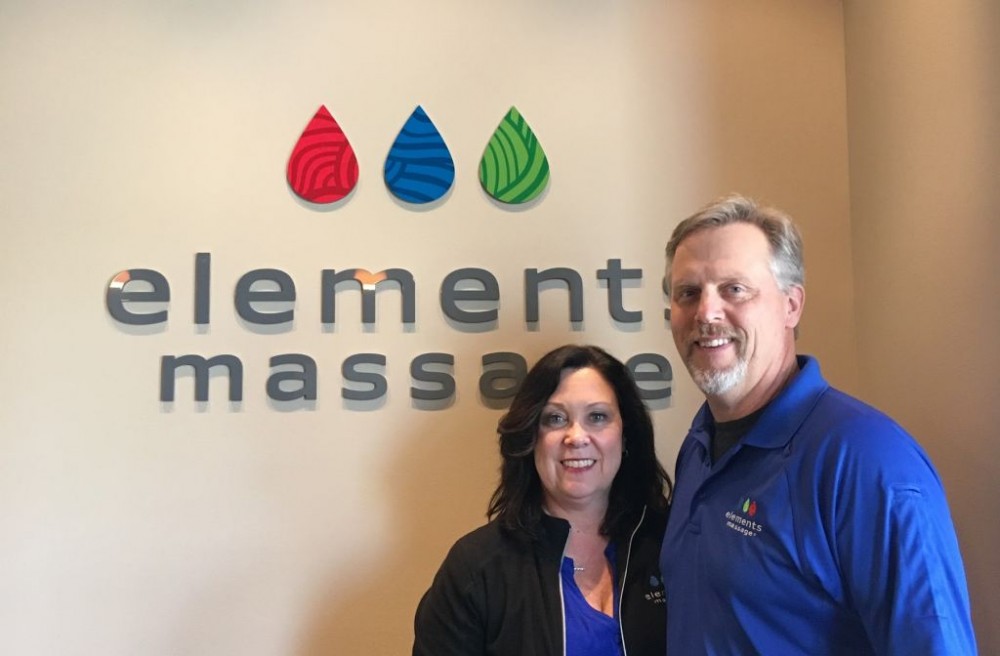 Stress seems to be synonymous with life. In our fast-paced world, pressures can pile up, causing us to feel rundown or at times generally depleted. Feel the need to recharge? One new establishment in Mount Pleasant has the cure for fighting off those aches and anxieties that surface at the end of a long day.
Elements Massage, located at 1153 Oakland Market Road, offers services that will soothe your mind, body and soul. With reasonable prices, experienced professionals and an environment guaranteed to leave you feeling rejuvenated, this is one local spot you're going to want to frequent again and again.
"It's very rewarding to have a business that helps people heal and makes them feel better," said owner Lisa Lindquist, who runs Elements Massage with her husband, Bill. "The ability to provide jobs for people in a welcoming and beautiful studio is also incredibly satisfying."
Since opening in April, this beacon of relaxation has welcomed a steady stream of guests looking to gain some relief. Unlike establishments that incorporate other services into the mix, Elements focuses strictly on the art of massage – proving that they see the importance of doing one thing and doing it well.
"We wanted to get into the wellness business, given that we are both pretty active, playing golf and tennis, and we want to stay that way," said Lindquist.
The Lindquists have experienced firsthand the benefits of getting massages regularly, which prompted them to open up a location where others could reap the same reward.
"We have a sister-in-law who was trained in massage therapy in Germany, where it has a decidedly more medical focus," said Lindquist. "She has been instrumental in our learning about this business."
The advantages of incorporating massage into your self-care regime can be rather monumental. From easing tension in overworked muscles to elevating mood, the benefits of massage are vast.
"My husband in particular has a number of injuries sustained while playing sports in college that have been improved very much by massage therapy," said Lindquist.
From the athlete looking to ease the pain to the busy mom seeking much-needed TLC, Lindquist encourages all to come out and experience the top-notch work offered at Elements. Couples massage, hot stone massage and prenatal massage are just several of the varieties from which to choose.
In addition to guests being pampered in a relaxing space, Lindquist makes sure the studio's surroundings are conducive for therapists to do their very best work.
"Elements was founded by a massage therapist so part of our culture is to provide an environment where we take care of the therapist's needs," said Lindquist. "We do so with hydraulic beds, larger rooms, a spacious break room and flexible scheduling."
In the rare case that you aren't 100-percent happy with your experience, Elements offers a solution.
"We have a guarantee that you will be completely satisfied with your massage or the next one is on us," said Lindquist. "If you are still not satisfied, we will refund your money for the first massage."
Elements Massage is located in The Market at Oakland. To learn more, call 843-352-9111 or visit www.elementsmassage.com.

By Kalene McCort
Photograph provided.