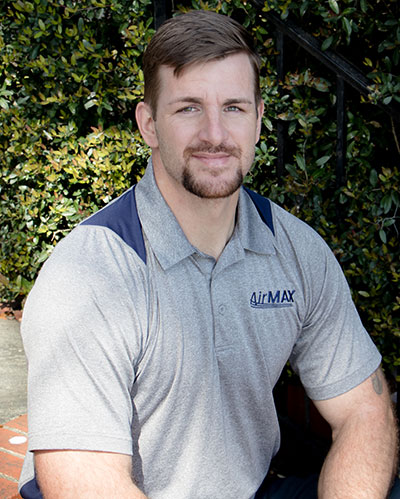 Field Advisor Stephen Faile is one of the newer faces at heating and air company AirMax, but the caring attitude and kind people have already made him feel like a part of this family-away-from-home.
Faile began his career in the HVAC industry after graduating high school, working as an installer prior to attending college. Throughout his 15-year career servicing heating and cooling units, he has gained experience as a maintenance technician and in management positions before shifting his focus to sales. While his job at AirMax entails selling products, he's hesitant to think of what he does as a sales job. "I really love helping people," he explained, "so when I go visit someone who has concerns about their A/C system, the most important thing to me is getting to know the clients and asking a lot of questions to help find the right solution for them."
Because he's worked in the industry for longer than the average lifetime of an HVAC unit, he's able to share insight into how a system will perform over time, something many other sales representatives are unable to do. More importantly, Faile's hands-on, caring approach paired with a wealth of knowledge acquired through his years as a technician mean that he's focused on finding the right solution for his clients, not the most expensive one.
That's what ultimately drew him to become a member of the AirMax family. "When I met with (owner) Medd, I could tell that he's a genuine person who really cares about his customers," he recalled. "AirMax is a great company. They're very organized and care about the employees. All of the technicians are very qualified, which isn't something that you find at many other companies."
When he's not spending time with his AirMax family, Faile spends as much time as he can in the outdoors with his seven-year-old daughter, three-year-old son and wife, who is expecting their third child. They love taking trips to the beach, kayaking, boating, hiking and exploring national parks near their home in Summerville.
For more about Mount Pleasant, SC heating and air company AirMax call (843) 614-3276 or visit AirMaxSC.com.
By Lindsay C. Bishop