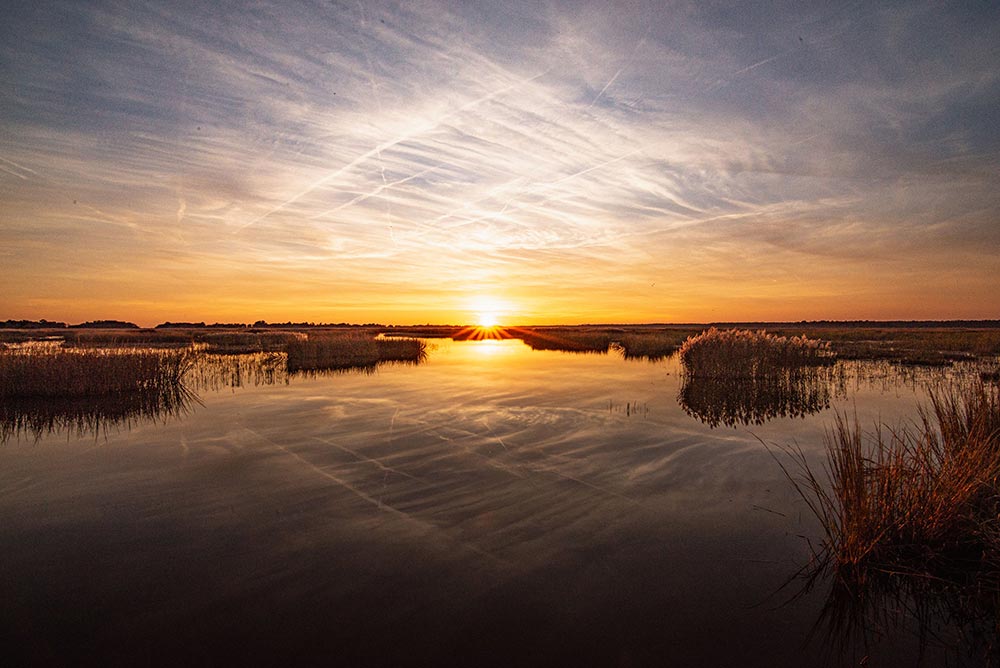 North Mount Pleasant is conveniently located near dining, shopping and public beaches, but sometimes you need to escape the traffic and crowds and find solace in Mother Nature.
Whether you enjoy hiking, birding, wildlife watching, biking, fishing, camping or hunting, outdoor recreational activities are close by. We've highlighted some local places you can explore to scratch that nature itch. Or are those just mosquitoes? No matter where you venture, don't forget the bug spray.
Center for Birds of Prey
The Center for Birds of Prey, located off Highway 17 in Awendaw, has been gradually re-opening to the public since September 2020. As of publication, the center was limiting visitor attendance to 50 people for all events and requiring advance online ticket purchasing. They are currently offering avian flight demonstrations and tours on Thursdays and Saturdays between the hours of 10 a.m. and 1 p.m. Gates open at 10 a.m., flight demos are held from 10:30 to 11:30 a.m. and guests have the remaining time to take a self-guided property tour.
Director of Education Stephen Schabel said they are planning to open additional programming on Fridays beginning in May and hope to resume full visitor capacity by fall. "Our programs offer the unique opportunity to view raptors such as hawks, owls, falcons and vultures in free flight with extreme closeups (just inches overhead) highly likely," explained Schabel.
Special events occur throughout the year including Photography Days and an Owls By Moonlight flight demonstration and tour scheduled for November and December. The Center houses an Avian Medical Clinic that treats injured raptors and shore birds, which saw more than 900 birds last year. Contact them if you see an injured bird. And raptorphiles take note: they also offer volunteer training if you want to get involved. They require social distancing and mask wearing when on the main campus. Check their website for status updates and upcoming events.
Thecenterforbirdsofprey.org
843-971-7474
Santee Coastal Reserve Wildlife Management Area
This 24,000-acre reserve can be a seasonal hotspot for birding and catching migratory, breeding and year-round species. The Washo Reserve, a 1,040-acre sanctuary within Santee owned and co-managed by The Nature Conservancy, harbors the oldest wading bird rookery in continuous use in North America. Tranquil and secluded, it's typically uncrowded, providing an ideal setting for wildlife viewing and nature photography. Achi Treptow, a certified wildlife biologist with the South Carolina Department of Natural Resources, advised that unlike a state park, Santee doesn't concentrate much on visitors. "A Wildlife Management Area's main focus is to provide a habitat for a variety of native and migratory wildlife," Treptow explained. "We therefore have no public restrooms and rather few educational displays. Our place is all about enjoying nature, away from the traffic and noise of bigger cities."
A network of trails traverses wetlands, diverse uplands and old rice fields, and a boardwalk passes through cypress swamp habitat where you may glimpse vibrant yellow prothonotary warblers migrating through during spring. They also offer biking and primitive camping and have a new dock for fishing. Santee additionally serves as a designated hunting area during season.
Visitors should be aware that water levels in the former rice fields can be adjusted for management purposes and fluctuate throughout the year, which attracts varying wildlife at different times. As you drive along Santee's main entrance road, watch for red cockaded woodpeckers among the burnt longleaf pine habitat. Bring bug spray if you're coming between late March and late October. Maps are available at their kiosks, but often run out, especially on weekends.
dnr.sc.gov
220 Santee Gun Club Road, McClellanville, SC 29458
Cape Romain National Wildlife Refuge
Cape Romain National Wildlife Refuge encompasses rich coastal ecosystems, including salt marsh, tidal creeks, barrier islands, pristine beaches and maritime forests. With more than 293 bird species recorded on the 66,000-acre refuge, birdwatching opportunities abound. Observe seabirds nesting on the beaches during summer, including the state threatened Wilson's plover and black skimmers. The refuge hosts the largest wintering populations of American oystercatchers and marbled godwits along the Atlantic coast. It also supports the biggest nesting endangered loggerhead sea turtle population outside of Florida.
Most of Cape Romain is accessible only by boat, so if you don't have one, the best way to experience it is by booking a Bulls Bay Island nature excursion through Coastal Expeditions (www.coastalexpeditions.com/), which contracts with the refuge to offer guided trips to this undeveloped barrier island. Cape Romain Refuge Ranger Tricia Midgett recommends making reservations since tours have been operating at limited capacity. A public fishing pier is located at Garris Landing, where the Bulls Bay ferry departs. Note that fishing and hunting permits are required for conducting these activities in the refuge.
You might have seen photographs of Bulls Bay's "Boneyard Beach," depicting hauntingly beautiful images of its fallen oaks and cedars lying scattered and skeletal among the sand and surf. There are trails for hiking and viewing wildlife, which may include birds, the black fox squirrel, white-tailed deer, alligators and other reptiles. Tidal creek dolphin sightings are common.
The Sewee Visitor and Environmental Education Center off Highway 17 in Awendaw serves as Cape Romain's visitor center. Although its building was closed to the public as of publication with expected reopening in May, the grounds are open Monday through Friday. The easy one-mile Nebo Trail, entailing the 2,800-foot boardwalk, passes through wetland and longleaf pine ecosystems to bring you to a viewing platform for the endangered red wolf enclosure. Sewee is considered one of only 43 captive breeding sites in the United States for red wolves, according to Midgett. They house three wolves, two male and one female, with another female slated to arrive from Charles Towne Landing.
The trail continues to serene Nebo Ponds, which offer fishing during daylight hours and good birdwatching. Sewee Pond by the center is only open to fishing during special annual events, but you might spot alligators, turtles and wading birds.
The visitors center is seeking volunteer staff upon reopening. It features interactive interpretive exhibits, educational activities and more. Call for more information.
fws.gov/refuge/cape_romain
843-928-3264 Ext 210
Awendaw Passage-Palmetto Trail
This beautiful 7.1-mile hike serves as the coastal terminus of the mountains-to-sea Palmetto Trail, a network of connected statewide trails established in 1994 that bears the distinction of being South Carolina's longest pedestrian and bicycle trail. The beginning of Awendaw Passage can be found at the Buck Hall Recreation Area trailhead within the Francis Marion National Forest. Starting at the intracoastal waterway, the path meanders through maritime forest and offers sweeping views of Lowcountry salt marsh and Awendaw Creek. Look for a scenic overlook and boardwalk at Walnut Grove. Enjoy this leisurely amble over easy terrain, with opportunities to observe wading birds, songbirds and other wildlife. For those hardy souls eager to extend the journey, Awendaw Passage links to the 47-mile Swamp Fox Passage at Steed Creek Trailhead. Or if you prefer experiencing our coastal ecosystems from a different perspective, Awendaw Creek canoe launch is located at the end of Rosa Green Road. For directions to the Buck Hall or Steed Creek trailheads, visit the website provided. Note that there is a parking fee to use Buck Hall Recreation Area, which also offers tent and RV camping with applicable fees. Restrooms are available at Buck Hall Landing.