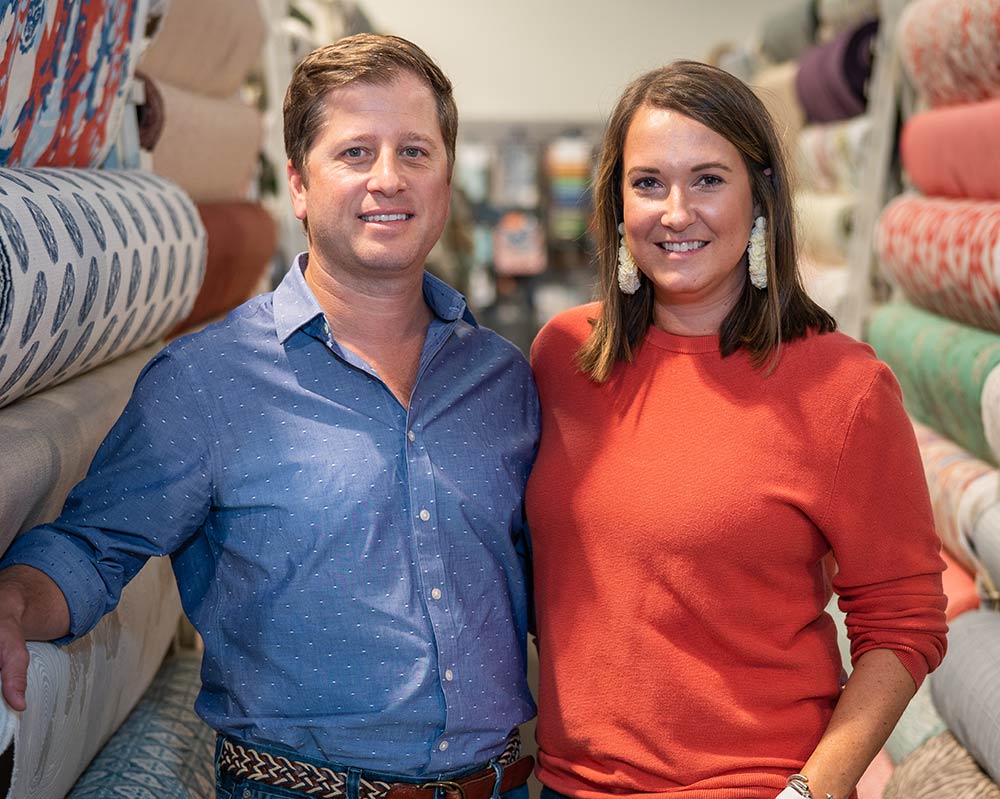 With family roots in the textile business stretching back over 40 years in North Carolina and Greenville, South Carolina, Allison and Jonathan Flanary opened their Mount Pleasant retail fabric business in 2014, when they purchased The Fabric Emporium and launched Aiden Fabrics, named after their son. The couple added a daughter, Sadie, to their family in 2015.
Jonathan's family entered the textile industry in 1981 when his father Ed opened a retail fabric store in Greenville and subsequently moved into the wholesale and distribution markets. He opened American Foam & Fabric in 1991. Allison's father spent more than four decades in the decorative fabric business and is now retired.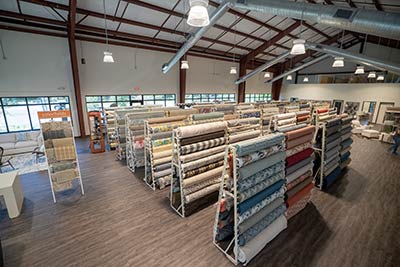 This couple brought their individual experiences together to launch Aiden Fabrics, which services both the retail and wholesale sectors, and has provided textiles across business channels like furniture, automotive, marine and aeronautical. By distributing the responsibilities between themselves, they work as a team to handle the day-to-day operations, with Allison managing the business office, e-commerce, website and marketing, while Jonathan manages the retail and commercial operations.
Both Jonathan and Allison are thrilled that their business is growing to include a new location, and they attribute a great deal of success to their guiding principles. "Through the years, our family businesses have grown and been successful, we believe, because of our commitment to ethical and honest business practices. Our commitment to client satisfaction is our number one goal and it shows in how we do business each and every day. We strive to make every customer happy and to keep coming back time and again for all your home furnishing and design needs."
Aiden Fabrics doesn't just focus on fabric, but also offers custom furniture from North Carolina, accessories, custom fabrication, window hardware, blinds and shutters, rugs and outdoor swings – "anything you need to decorate and furnish your home."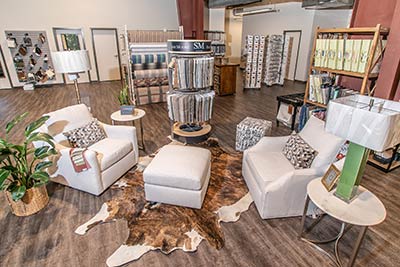 With the launch of the new location, Jonathan and Allison are excited for their customers to explore the expanded showroom, featuring 3,000 additional square feet with new inventory, added customer furniture and home accessory vignettes and an expanded Design Center for customers and designers to build unique looks.
Among the new products, Aiden Fabrics offers a larger vendor selection of top home décor and fabric brands with special order accessibility.
If you are looking to launch a new style, upgrade, change or improve on your existing decor for either home or office with fabric, furniture, lighting and accessories, then Aiden Fabrics is the go-to place for all your needs. Get the "look" from ceiling to floor and bragging rights on your fantastic sense of style!
The new location is at 1172 U.S. Highway 41, Suite 101, Mount Pleasant. For more information, call 843-216-0008 or visit aidenfabrics.com.
By Eileen Casey