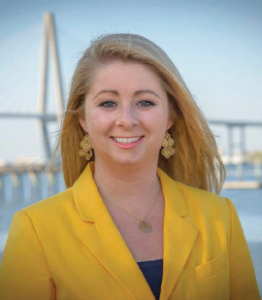 I didn't think I'd be going into real estate this soon," said Laura Pape (pronounced "poppy"), a real estate agent at Carolina One in Mount Pleasant.
Though she considered studying real estate in college, it wasn't until her father, an agent with 14 years in the business, asked to mentor her that she made it her focus.
"With my own father asking me, I was up for the learning experience," she explained.
Now she and her father, Dan Pape, work together as Team Pape, even sharing an office at Carolina One Real Estate's Belle Hall office on Long Point Road.
For Laura, Mount Pleasant is home. She not only lives and works here, but she grew up here, too, leaving only to attend the University of South Carolina. There, she double majored in marketing and management, with a specialization in entrepreneurship and a minor in hotel, restaurant and tourism management. Laura purposely chose a broad major so she'd have several options to explore in business upon graduation.
Soon after graduating in May 2011, Laura went to work at an Allstate agency in North Charleston for a year. She joined Carolina One in July 2012 when her father, a broker associate, said he was interested in mentoring her. Laura earned her real estate license in late 2012 and went full-time at Carolina One in June 2013. She credits her father for being a wonderful resource.
"He's where I've gotten a lot of my knowledge from in real estate. He has been my mentor, and I couldn't have had a better role model," she said.
Their success as a team comes in part from using their individual strengths. With a new listing, they take advantage of Dan's vast experience and Laura's strong marketing background.
"That's what makes us such a great team. We have the experience and the technology aspects covered, and that's why I think we do really well together," she said.
And what a team they make. In 2013, Dan Pape and Team Pape both had their best year ever, and their best month was this past January, a time of the year not typically productive in the real estate business.
Carolina One Real Estate is the leading real estate company in the tri-county area, taking part in one out of three home sales in the area, according to the company's website. With 11 offices and more than 800 sales associates, they play a big role in helping people find the home of their dreams. Team Pape takes advantage of Carolina One's fantastic resources and networks to give their clients exceptional and personalized service.
Laura acknowledged that because she's young, she's had to work hard to prove herself. But it's a challenge she's up for. She plans to stay in real estate and in Mount Pleasant.
"It's my home. It's where I've grown up, and it's a great place. It is a melting pot," she pointed out. "There are people from all over the world here, and that makes it so unique."
Laura's advice to women considering a major or a career in business is to go for it.
"I think it's a great opportunity," she said. "Try your very best. That's all people can ask for."
She also lives by a quote posted in her bathroom: "Reach for the stars. They're closer than you think."
By Erin Danly