One's home is truly a reflection of personality. Whether you are a minimalist dedicated to adding the occasional sparse succulent to your abode or a décor enthusiast with a penchant for bold color, one thing shoppers always value is variety. For eight years, Next to New, in Brickyard Plantation, has helped folks fill their homes with quality pieces that possess just as much soul as they do aesthetic appeal.
"I just happened to fall into this business," said owner Catherine Moorehead. "I painted and restored furniture and was interested in finding a place to sell it. Before long, I was working for the original owner part-time, and, when the opportunity to own the business came up, I grabbed it."
The process of feathering your nest is usually filled with anticipation and the desire to craft a truly breathtaking space. Moorehead and her team understand the process that goes into achieving just the right look. They are always there to offer up their professional opinions and style tips.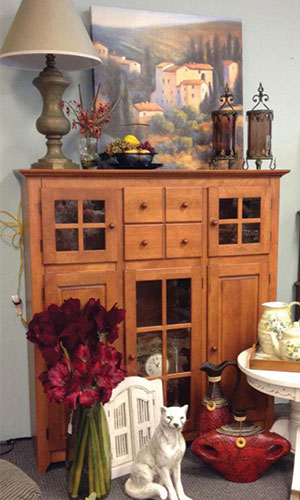 "We carry a great selection of high-quality, fairly-priced, gently-used furniture and home décor," said Moorehead, whose business consistently takes home accolades. "We have a friendly and competent staff who are willing to help customers in any way they can."
Once inside, patrons are always wowed by the service and selection.
"We have a loyal following of shoppers and over 5,000 consignors," said Moorehead. "Customers bring their friends and visitors to the shop."
One trend that seems to dominate Lowcountry style is serene, beachy appeal. From gorgeous mirrors to carefully woven area rugs, Next to New can help you transform any room in your home. Explore 5,000 square feet of sofas, dressers, end tables, lamps and various works by notable Charleston artists.
"People who shop with us tend to be looking for casual coastal décor – light color woods, fun fabrics and finishes," said Moorehead.
As far as common misconceptions surrounding items that are second-hand and gently used, Moorehead encourages reluctant shoppers to expand their horizons. After all, purchasing an item that isn't from a typical chain can add one-of-a-kind pizazz to your home, and it's also less harsh on the environment. Eco-friendly and elegant, Next to New's assortment never disappoints.
"People may think of a resale store as poor-quality merchandise, but that is simply not the case," said Moorehead. "We carry top brands like Pottery Barn, Restoration Hardware, Nichols & Stone, Hickory, Henredon and much more."
Keeping inventory fresh and only accepting pieces in top shape, Next to New is truly an embodiment of its namesake. Each piece in their expansive collection is carefully inspected prior to taking center stage on the sales floor.
"Be prepared to spend a lot of time working on your business," said Moorehead, when asked what advice she had for those looking to one day walk down a similar career path. "As an owner, you will be wearing many hats – from managing, banking, advertising, record keeping, payroll, emails, scheduling and even cleaning."
New arrivals are delivered daily to this hub of furnishings that consistently exceeds expectations. With Southern hospitality and an eye for taste, Next to New is certain to be your next favorite. Be sure to follow this business on social media to keep track of the ever-evolving collection.
Next to New is located at 2700 Highway 17 North in Mount Pleasant. To learn more, call 843-606-2715 or visit www.nexttonewsc.com.
By Kaylene McCort