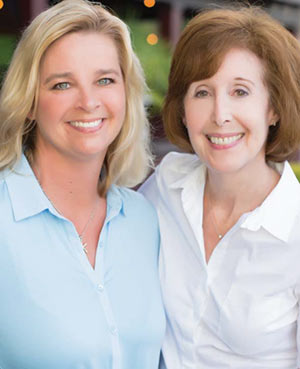 Chari Karinshak and Franne Schwarb know that real estate is a massive business made up of tiny moments.
"I knew Chari was a Realtor," said Schwarb, "but we didn't meet until the day she came over to talk to me about pet-sitting my cat. We stood in my kitchen and talked for two hours."
A powerhouse duo, Karinshak and Schwarb are also neighbors who live two blocks apart and have built a business that feels like family. Together they have worked with families from as far away as Switzerland and oversee a full spectrum of transactions, from a $1.25-million listing on the Dunes West golf course to a condo under contract for a buyer at just over $200,000. To them, though, the most important moments are not the sales – they are when a family walks into a house and knows it's their home.
Schwarb is a self-described "Yankee from Maryland" and can be pretty serious, while Karinshak is "the Southern gal from Georgia" and the one with a great sense of humor, according to Schwarb. A die-hard Steelers fan, Karinshak hosts football parties in her "Steeler room" when she's not touring and working with clients.
This year, Schwarb and Karinshak were 19th on a list of Coldwell Banker Residential Brokerage Top 100 Agents in the Carolinas. After 25 years in the business, Schwarb said they don't just focus on selling clients a house. Instead, they work to build long-term relationships.
"This is my fifth transaction with one client's family," said Schwarb. "Some of our clients have watched me become a grandmother and Chari graduate children from high school. They are our friends."
Schwarb and Karinshak recently sat on the floor of Schwarb's home office, laughing and talking about website development.
"We do laugh a lot," said Schwarb. "We really love what we do. You can't do real estate without that love."