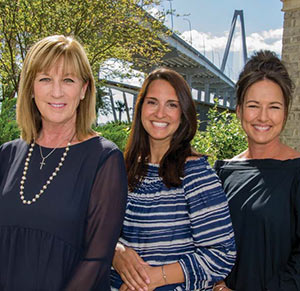 As part of the Hunnicutt Real Estate Team of Carolina One Real Estate, Realtor Cathy Hunnicutt believes the secret of the team's success is having the right people in place.
"Early on, we realized that we couldn't manage every detail of the real estate business and give 120 percent to our clients, and that's when we started the process of putting together a team," said Hunnicutt.
She joined husband Ed, who has been in real estate for nearly 25 years, in 2000, after several years as a pediatric nurse, and they soon added more team members. Now they work alongside three buyer specialists, GeorgieAnn Hoerner, Mary Hamilton and Matt Hunnicutt; a closing coordinator, Sandra Patrick; plus a support team to help with photography, marketing and lead generation.
When building a team, you want to make sure you have the right pieces, said Hunnicutt: "In real estate, it's good to hire similar personalities. That's what makes it work."
For Hunnicutt, it's not just about creating a community but helping the community, too.
"Being in a town that has given so much to us, it's important to us to give back," she said
The Hunnicutt team is regularly involved in community service opportunities, including doing work for Habitat and sponsoring the Blessing of the Fleet. Further afield, most of the team members have been on mission trips to Guatemala, said Hunnicutt.
She and her team are aware of what a milestone a real estate transaction is. After all, it's one of the biggest purchases a person will ever make.
"It's important that everyone is sensitive to that responsibility," said Hunnicutt.
With that in mind, the Hunnicutt team will continue helping people buy and sell their homes in the Mount Pleasant and Charleston areas while helping the community at large as well.