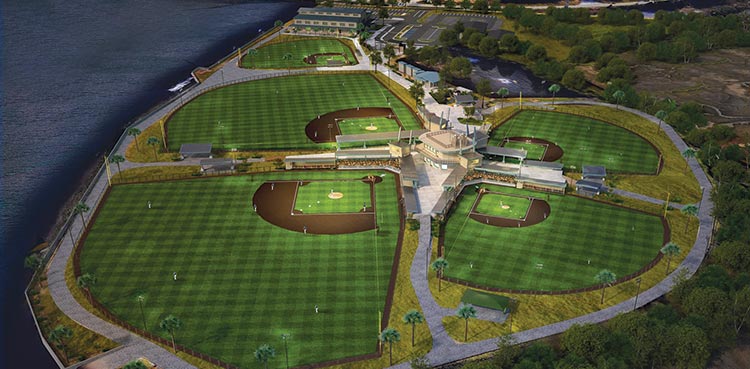 In an iconic 1989 movie, Ray Kinsella (Kevin Costner) heeds the ambiguous advice of a mysterious voice and plows over untold acres of valuable farmland to build a baseball field that eventually becomes a playground for the troubled ghosts of ballplayers past. There's nothing to indicate that Shipyard Park was ever a cornfield, but the soon-to-be baseball mecca, situated on 20 acres of prime land that fronts the Wando River north of Mount Pleasant, will undoubtedly take its place as a Field of Dreams for thousands of youngsters in the tri-county area.
The park, situated on land that once was home to Detyens Shipyards and is still owned by the company, is expected to be completed this summer. Perched just above the river, virtually in the shadow of the new bridge that will soon be open to traffic, the property, located just across the Charleston County line in Berkeley County, seemed ideal for development of a different kind. According to Detyens President Loy Stewart Jr., that was never a possibility.
"Developers have been dying to build a restaurant, a marina or condominiums," Stewart explained. "We just didn't think that was an appropriate use for the property. Shipyard Park will affect kids long after we're dead and gone. And we're kind of partial to baseball."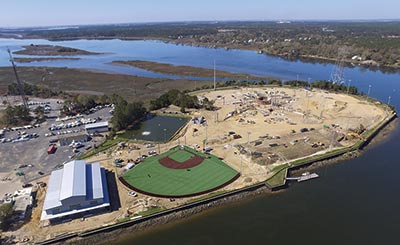 The 20-acre complex will include five lighted fields, and there's even space to practice indoors, inside the Stewart Center, a 10,000-square-foot facility with a floor that can be converted to a gymnasium for basketball and volleyball. The Center also will include a weight room and office space for the staff, which will be headed up by Stan Kowalski, a former Charleston Southern University pitcher and assistant athletic director who established the Charleston Baseball Academy in 2001.
Kowalski likened Shipyard Park to a spring training facility and pointed out that teaching and development will be his main objectives.
"What we do will be no different than what high-end athletes do, but on a smaller scale," he explained "We will do things the right way. Today, kids play too much and don't practice enough. They will enjoy it if it's done the right way. If they don't enjoy it, most kids stop playing past the age of 12 or 13."
Among those helping Kowalski will be Jason Murray, who has coached college baseball at Liberty University, Charleston Southern, Winthrop, the University of Michigan and the University of Florida.
And, Kowalski pointed out, some local residents who have made it to "The Show" will be working out at Shipyard Park during the off-season – he mentioned Brett Gardner of the Yankees and Blue Jays slugger Justin Smoak – and probably will help out as well.
Shipyard Park will be much more than just a place where kids come to participate in America's pastime. They'll receive instruction in other sports, including basketball, volleyball, softball and soccer, and the facility will be a venue for weddings, parties and corporate meetings. A dock built by Detyens will welcome participants to arrive by boat.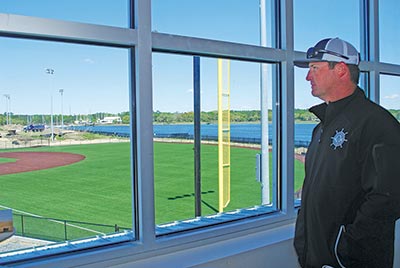 And though other sports and activities will have a place at Shipyard Park, the star attraction certainly will be baseball, and Detyens, which is paying to build the park, apparently is determined to make it a unique venue. For example, there will be three youth fields and two full-sized fields, all covered in high-tech artificial turf and all with Major-League style dugouts, press boxes and a handicapped area where wheelchair-bound fans can roll up to watch the games and practice sessions. There's even an umpires' locker room that will also be used by professional baseball players who train at the facility during the off-season and a restaurant and lounge where fans can view the action on the surrounding fields.
Each of the two full-sized fields will have its own unique personality. Detyens Field, which will measure 390 feet to dead center and 325 feet along the foul lines, will feature a scoreboard large enough to use to show movies, while the specs for Wando River Field were determined by the river itself. Its dimensions range from 315 feet to 375 feet from home plate, with the height of the wall between 8 feet and 20 feet.
The park, designed by Kowalski and Stewart, also includes indoor and outdoor batting cages, nature trails and somewhere in the neighborhood of 45 restrooms.
Kowalski pointed out that college baseball games will probably be played at Shipyard Park, beginning in 2018, and that there's a possibility that ESPN might be interested in televising some of them.
But as impressive as the physical aspects of Shipyard Park will be, its most important job will be teaching youngsters how to play baseball "the right way," according to Kowalski.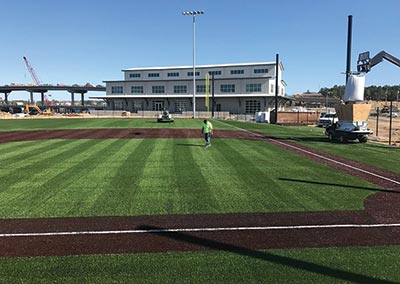 "We're going to do what's right for the player," he explained. "We go above and beyond lessons. If you put the kids first, everything will take care of itself."
"Kids are going to have the opportunity to come here and train. The whole idea is to provide good training and education," Stewart added. "There are parks all over the state, and they're nice, but we're going to do something so much better. You'd be hard-pressed to find anything like this. We're doing this for all the right reasons. The opportunities are endless for different kinds of training and development."
Stewart, who grew up in Mount Pleasant, pointed out that Shipyard Park is located in Berkeley County and not within the borders of his hometown.
"We're not doing this for Mount Pleasant or for Berkeley County. We're doing it for the whole area. Kids need a place where they can get out and get some fresh air and exercise."
And where they have the opportunity and the incentive to dream.
"The one constant through all the years, Ray, has been baseball. America has rolled by like an army of steamrollers. It has been erased like a blackboard, rebuilt and erased again. But baseball has marked the time. This field, this game: it's a part of our past, Ray. It reminds us of all that once was good and it could be again. Oh … people will come Ray. People will most definitely come. – Terrance Mann (James Earl Jones) • Field of Dreams.
By Brian Sherman